campus
The Campus
The Campus in Altea is one of the four campuses of the Miguel Hernández University of Elche, next to the ones in Elche, Orihuela and San Juan. Altea, the city on the Mediterranean Sea with which the campus maintains close links, provides a pleasant environment and climate, ideal for the development of academic activity.
The Campus consists of the Montagut, Cap Negret, Ifach, Cap Blanc, Albir, Bernia, Puig Campana, Aitana, Algar and Planet buildings. These facilities are designed for learning and development of contemporary art practice, forming an open space for the transit and confluence of ideas and for the university community.
The Campus integrates the Faculty of Fine Arts of Altea and the Department of Art, in which the Bachelor of Fine Arts degree, the Master's in Project and Research in Arts and Master's in Teacher Training ESO, BACH, FP, and EI are taught. It also houses the activity of most of the research groups of the Department of Art.
Furthermore, it hosts activities related to university extension, such as courses, conferences and exhibitions.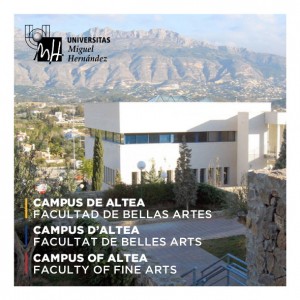 More